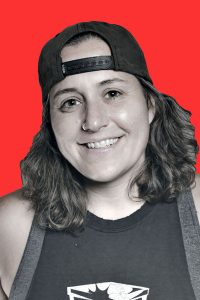 Roni Pillischer
Roni has been working in sound editorial and engineering for over a decade. 
An adventurer at heart, Roni's spirit and skillset have carried her all over the place: from recording ADR with Soundtrack NYC to mixing Broadway-Style shows on the high seas with Disney Cruise Line, Roni has graced listeners' ears with her mastery from Skagway to the Caribbean. More recently, Roni spent some time on a corporate gig, working as an AV Tech for a global financial company.
Luckily for us at Alchemy, Roni realized that large corporations are lame and boring, while smaller LLC's are edgy and cool. 
When she's not in the studio, you can find Roni foraging for indigenous edibles with her partner and listening to thought-provoking podcasts, while trying to train her dog to cuddle on command.