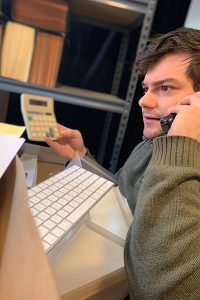 Joey Flihan
Joey is a recent graduate from Washington University in St. Louis' College of Arts and Sciences.
At university, Joey achieved a double major in music and anthropology. Spending hundreds of hours in the library and writing dozens of essays on ethics in ethnomusicology prepared Joey well for many of the tasks he performs at the studio, such as using a label maker and answering the phone.  In his free time at school, Joey performed in a long-form improvisation group and served as Music Director/Recording Chair of his a cappella group, developing musicality, leadership, and interpersonal skills so he could one day download and upload pix files from Aspera while making coffee.
Now back in New York, Joey is an active member of his hometown volunteer fire department, which affords him the unique skills required to purchase Diet Coke and pretzel rods in bulk.