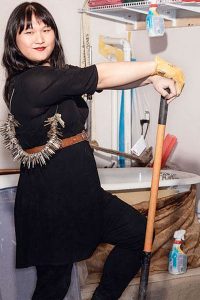 Joanna Fang
Joanna, or Fang as she is known in the studio, is Alchemy Post Sound's Foley artist. Fang has performed Foley for countless films, documentaries, television shows, live theater, and experimental media.
An alumni of NYU's Tisch School of the Arts, Joanna studied every facet of filmmaking and post production under sound editor Marsha Moore McKeever, cinematographer Gordon Arkenberg, and screenwriter Daniel Stiepleman. She fell in love with sound design and Foley during her time at NYU and after graduating with honors in 2013, started performing Foley with lead Foley artist Leslie Bloome. Through her sounds, she has had the privilege of dancing for FX's Fosse/Verdon, hunting terrorists on Hulu's The Looming Tower, rolling joints for HBO's High Maintenance, and crashing a bus for Ira Glass on This American Life.
In 2016, she was recognized by the Television Academy as the first openly transgender woman of color to win a Primetime Emmy for her sound work on A&E's Cartel Land. When she's not in the studio; she can found writing poetry and prose, playing her Telecaster, or advocating for transgender rights.