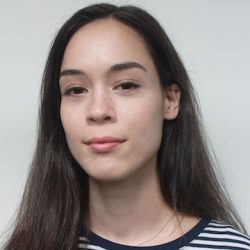 Laura Heinzinger is Alchemy Post Sound's studio assistant and Foley editor.
While studying fine arts at Parsons the New School for Design, Laura enrolled in a sound design course on a whim which sparked her interest in electronic music and sound. Shortly thereafter, her friends and colleagues started asking her to craft sounds and score music for their short films; thus she discovered the art of Foley.
After working client services for various post production sound studios such as Harbor Picture Company and Explosion Robinson, Laura decided to pursue Foley art and editorial. She began as an intern at Alchemy Post Sound in early 2017, and is now a Foley editor and studio assistant.